This shop has been compensated by Collective Bias, Inc. and its advertiser. All opinions are mine alone. #SnackItAndPackIt #SeasonalSolutions #CollectiveBias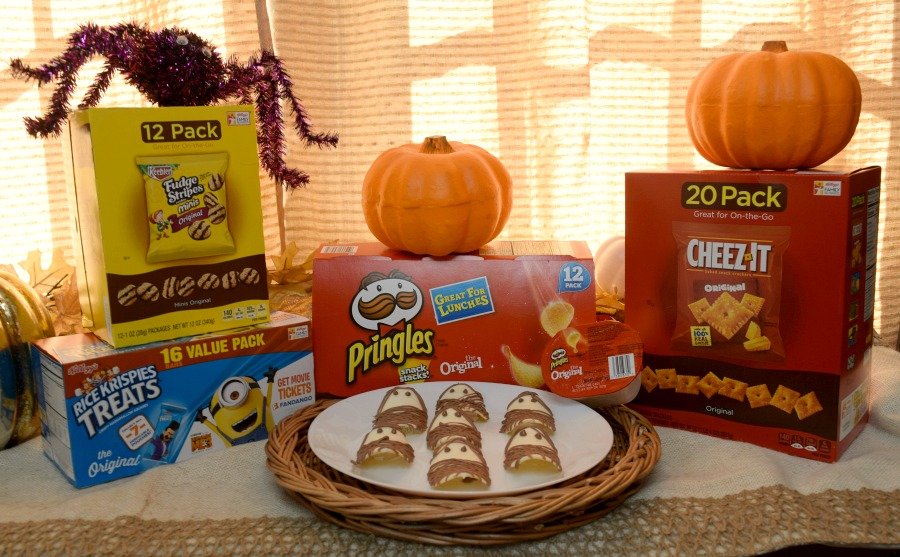 Each year, my family begins planning our Halloween buffet in early October. We love the fun, spooky-themed menu items that flank our buffet table and kitchen and especially love easy recipes. This year, we're adding a new menu item into the Halloween recipe mix: Mummy Pringles. Super easy to make, the recipe calls for only a handful of ingredients. The best part? The combination of sweet and salty is a hit with just about anyone. Ready to pull two well-loved snacking items together? Here's my recipe for easy Halloween treats, Mummy Pringles.
Ingredients for Mummy Pringles
Recipe makes approximately three dozen Mummy Pringles
Approximate time to make: 45 minutes to one hour
36 Original Flavor Pringles
One bag of white chocolate chips
One bag of milk chocolate chips
Additional Items
A plastic bag
Parchment paper
Large Cookie sheet
Silpat cookie sheet liner or more parchment paper
Before You Begin
Line a baking sheet with parchment paper or a Silpat liner. Add to the refrigerator to keep chilled.
Note: If your cookie sheet doesn't fit in your fridge, you can use two smaller ones.
Step by Step Recipe Tutorial
Using a double boiler or, my favorite, electric fondue plate, add white chips. Begin with the lowest temperature and gradually increase until you see the chips at the lowest level beginning to melt. I cannot stress this enough, but resist the urge to stir the chocolate until most of the chips have melted. I've started stirring to hastily and ended up with a big lump of unusable chocolate.
2. While keeping an eye on your white chocolate, start looking through your package of Pringles for undamaged ones. This recipe uses approximately 36 of them, so put them in a bowl or on a plate to keep them nice and pretty.
3. Once all of the white chocolate has melted, take the cookie sheet, with the liner, out of the fridge. if you're using a double boiler method on the stove top, make sure there's plenty of room to lay the sheet beside it and away from the burner. If not, place a small table close by and use that.
4. Take one of the Pringles and lay it face down on the chocolate. Do not dunk or you'll risk burning your fingers. Rock it from side to side until the top is coated.
5. Once completely coated, remove and let the excess white chocolate dribble off. I like to scrape the edge with a fork to keep it nice and clean looking.
6. Lay on chilled cookie sheet and repeat the process until all chips have been coated.
7. Put cookie sheet, with coated Pringles, back into the fridge to chill while you're completing your next step.
8. Add 1/2 of a bag of milk chocolate chips to the fondue pot/double boiler and allow to melt. It won't take nearly as long as the white chips so keep a watchful eye.
9. Once the white chocolate has completely solidified on the Pringles, remove from the refrigerator.
Making the Mummy Stripes and Eyes
Here's where the fun really begins. You can either use a resealable plastic bag, with the tip cut off, and fill it with small amounts of the melted chocolate mix or create a parchment paper cone by rolling it into a cone shape and taping. Cut off the tip, very small, and test a couple of strips of the chocolate on the cookie sheet or a paper towel. Warning: the melted chocolate will be hot, so please heed caution. I find that the parchment paper roll is thick enough to spare the heat.
Begin making thin stripes of melted chocolate using even pressure and movement. You may even want to practice on a couple of your extra Pringles to test.
After you've made the stripes on the bottom 2/3 of each chip, make two little eyes and a few lines of chocolate at the top to finish. All finished? Pop them back into the fridge to set and cool.
Where to Buy Ingredients
I'm a lucky gal;  I was able to purchase all of the ingredients listed, as well as a few additional Halloween snacks, at my local Kroger in Weirton, WV, but you can visit any Kroger or Kroger Banner store. I bought Pringles® Original (12 ct.), because not only are they easy to carry around as a snack, the package keeps the Pringles in good shape. The best thing about these single-serve tubs of Pringles® crisps is that you never feel the need to share. Single-size is just that. There's just enough, just for you.
If you want a change from passing out traditional candy, there's Kellogg's® Rice Krispies Treats® Original (16 ct., prepackaged) and Keebler® Cookie Mini Fudge Stripes (12 ct.). If I was a kid, I'd be diving into those boxes well before Halloween. Wait, I'm into into mine right now.
Tip: my local Kroger store in Weirton, WV,  had all the items in stock – yours should be carrying the products right now, so head on over and grab them before they're gone! Bonus tip: Kroger has loadable coupons through November 12, 2017:
Save $1.00 on Kellogg's® products when you buy ONE (1) Keebler® or Cheez-It® Caddy Packs, Pringles® Snack Stacks and/or Kellogg's® Rice Krispies Treats® crispy marshmallow squares.
Creation Tips
You'll need to make these the same day as you plan on eating them as the chips are better when they're fresh. Also, if you want a few without the chocolate stripes, add two eyes and call them ghosts! If you want more inspiration, check out the official social hub for great tips and ideas!
This is a pretty decadent Halloween snack, so I'd recommend one or two per guest. Of course, you can always make more!